Royal palace – Bangkok
Golden palace – Bangkok
Royal palace – Bangkok
Temple
Temple
The Tuk Tuk is commonly used for all kinds of transport
Sitting in a Tuk Tuk while being driven on the busy streets of Bangkok
Bangkok traffic
Power line spaghetti
Skyline of Bangkok
View from the 24th floor of the hotel overlooking Bangkok financial district
Doing a bicycle tour trough the busy streets of Bangkok
Really fresh fish on the local market
More fish
Chaweng Beach – Koh samui
Chaweng Beach – Koh samui
Chaweng Beach – Koh samui
You got to love Seafood
This guy is crazy !!
Why the Crocodile didn't eat the guy is still a mystery :-)))
Playing with 2 Siamese Cobra's and yes they they milked both Cobra's venom after the show
Koh Phi Phi – where they filmed the movie "The Beach" with leonardo Di Caprio
Too many tourists
Floating market  Damnoen saduak
Longtail boats
They even transport  bicycles on these longtail boats
Would they ever service these engines … ?
Phuket(James Bond island) – Here they shot the climax of the James Bond movie "The man with the golden gun"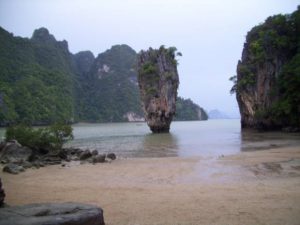 This island is uninhabited and was only chosen for it's paradise looking views
Fishing village
Fishing village on wooden poles
Entering the village by longtail boat
The village even has a football pitch, but where is the ball …? 
Change of weather
Naka island – Phuket 
Phuket
Some view
Playing with the Jet ski at Patong Beach – Phuket
Patong Beach – Phuket
Patong Beach – Phuket
Patong Beach – Phuket
Patong Beach – Phuket
Doing some fishing
Catching some lunch (small Tuna fish)
After the Tsunami a lot of Safety measures have been taken 
Nice view from the Hotel on Patong Beach – Phuket
You need to have a nice swimmingpool
Wished I was there again
Getting a tailored Kasjmir / Silk suite